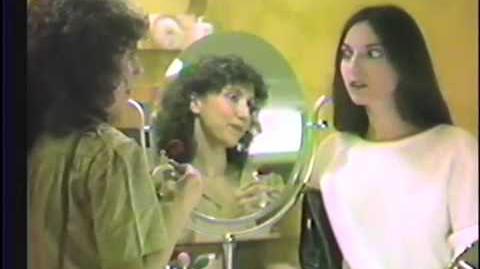 Possibly in Michigan
Cecelia Condit
1983, 11:40 min, color, sound
Possibly in Michigan is an operatic fairy tale of cannibalism, desire and dread in Middle America, a densely collaged narrative in which Beauty meets the Beast in the surreal landscape of shopping-mall suburbia. Two women with a penchant for "violence and perfume" take revenge on their animal-masked male persecutor. In this contemporary rendering of gothic enchantment, victim becomes aggressor and the familiar becomes the fantastic. Condit reworks popular narrative conventions using black humor, sing-song dialogue, and ironically gruesome images. Constructing a comically grim fairy tale of dreamlike pursuit and sexual violence, she inverts traditional Freudian metaphors to impart a subversive voice to her transgressive heroines: "I bite at the hand that feeds me." Possibly in Michigan is a classic tale of psychosexual horror, retold as an irreverent fantasy of the other.
Ad blocker interference detected!
Wikia is a free-to-use site that makes money from advertising. We have a modified experience for viewers using ad blockers

Wikia is not accessible if you've made further modifications. Remove the custom ad blocker rule(s) and the page will load as expected.